Year Inducted: 2016
Category: Football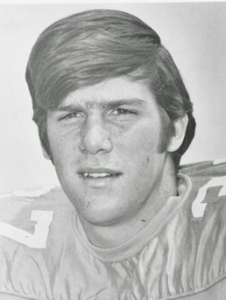 Conrad Graham, who grew up in Winston-Salem, North Carolina, and graduated from R. J. Reynolds High School, signed with the University of Tennessee as a defensive back in 1969. Graham was a three-year starter in Tennessee's secondary during a time which the Vols boasted one of the best pass-coverage defenses in history. Three of the defensive backfield members earned All-America status, including Graham during his senior year of 1972.
Graham's college career highlights (1970-72) include 15 interceptions (tied for third), eight fumble recoveries (tied for first) and three touchdowns by return. He was part of the 1970 Tennessee team which still holds the NCAA record for total takeaways (57) in a single season and set the school record with 36 interceptions. Graham was a member of the 1971 team which also holds the NCAA record for most touchdown returns off interceptions (7) and the highest return yardage after interceptions (782).
In 1972, the Tennessee defense held their opponents to eighty-three points through eleven games.  Tennessee's record during his time there was 31-5.  The Volunteers were consistently ranked in the top ten in college polls. His college career was capped off with a win in the 1972 Bluebonnet Bowl where, with two minutes remaining in the game, he broke up a fourth down pass to preserve a 24-17 lead against Louisiana State University. After his senior season, Graham played in the Senior Bowl in Mobile, Alabama and in the Coaches' All America Game in Lubbock, Texas. He was drafted by the Chicago Bears in the eighth round; however, knee injuries ended his playing career during his first pro season. Conrad lives in Winston-Salem and is a construction equipment salesman for Linder Machinery.  He and his wife, Betty Allen, have two sons, Conrad and his wife Mallory and Hunter and his wife Morgan, and three granddaughters.