Year Inducted: 2016
Category: Football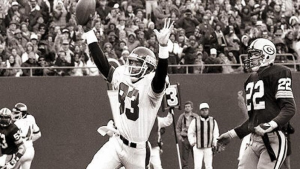 In high school, Gray was a three-sport athlete. He helped his football team win 1975 State Championship and was chosen as a Mississippi High School All-Star that year. Gray was named all-conference and all-district as a junior and senior in basketball and also placed second in state championship in both low and high hurdles.
One of the most renowned pass receivers in Tiger history, Earnest Gray set virtually every Tiger receiving record during his four seasons at the University of Memphis.
Starting as a true freshman at then Memphis State, he finished his career with 97 receptions, 2,123 yards and 17 touchdowns holding most of the schools receiving records. He currently holds Memphis records for average yards per reception in a career (21.9), longest touchdown pass reception (94 yards) and average gain per reception in a season (29.5). As a result of his athletic achievements, Gray was named to the 1978 and 1979 All-South Independent teams and the Associated Press and Football News All-American teams. He was selected to play in the East-West Shrine Game and the Senior Bowl after his senior season. Gray was inducted into the M Club Hall of Fame in 1991.
Gray, who played seven years in the NFL, was drafted in 1979 by the New York Giants as the 38th overall pick in the second round. During his rookie year, he had 28 receptions for 537 yards and four touchdowns. In the 1980 season, his 10 touchdowns tied for the lead in the NFC conference. He held both Giants' records for receptions and yardage with 78 catches for 1139 in 1983. His honors include playing on the 1979 All-Rookie team being chosen as the 1980 and 1983 Most Valuable Offensive Player of the year for the Giants. He amassed 246 receptions, 3,790 yards and 27 touchdowns during his professional career.
Gray, who calls Memphis home, has been with the Memphis Fire Department for 27 years. He and his wife, Helen, have four children: Decobia, Tameka, Al, and Akim.