Year Inducted: 2016
Category: Track and Field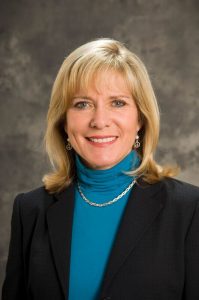 Missy (Alston) Kane grew up in Nashville, Tennessee, and graduated from Saint Cecilia Academy. Although she never ran track and field before entering the University of Tennessee in 1973, she still walked on the newly formed Lady Vol cross country and track team. As a vital member of the squad, she later was named captain. She earned her Undergraduate and Master's Degrees in Exercise Physiology from Tennessee.
Kane competed in the 1500 meters at the 1984 Olympics in Los Angeles, won a bronze medal in the 1983 Pan-American games and placed 6th in the World University games. She also spent four years coaching distance runners at the University of Tennessee, and was named Southeastern Conference cross-country coach of the year in 1990 as her team won the SEC title and finished 6th in the NCAA's.
She also worked at the NBC station, WBIR in Knoxville, for more than 12 years and was the first female sports anchor in East Tennessee when she anchored weekend sports from 1990-91. She went on to work as a track and field TV commentator for Fox Sports for 19 years while covering the SEC indoor and outdoor championships and worked for NBC sports at the 1987 World Championships in Rome, Italy.
She was inducted into the Knoxville Sports Hall of Fame in 1996 and into the Lady Vol Sports Hall of Fame in 2004. In 2012, she was awarded the Presidential Physical Fitness Award for her work in the East Tennessee community as she helped people gain better health through exercise.
Kane is currently the health and fitness coordinator for Covenant Health and is fitness hosts of a television show "Missy Fit and Fun" on ET PBS. She is married to Jim Bemiller a professor at the University of Tennessee. They have two daughters, Kelsey Kane, a former Lady Vol track athlete, and Gracie Bemiller, a freshman at West High School.