Year Inducted: 2016
Category: Football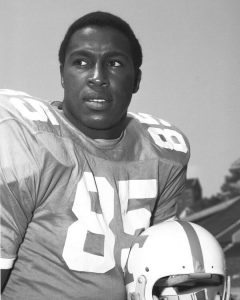 It was 1968, and the University of Tennessee's Volunteers were playing their first game on artificial turf, dubbed "Doug's Rug" for Vols Head Coach Doug Dickey. Tennessee vs. Georgia was the first game and the first catch for No. 85, a shy sophomore from Nashville, Tennessee, named Lester McClain. Dan Conaway perfectly summed up the day: "1968 was the symbolic year of the tragedy of Dr. Martin Luther King, Jr. in the spring and Robert F. "Bobby" Kennedy in the summer, and of the hope symbolized in one young man catching a ball in the fall.  When McClain caught that fourth-down pass, he wasn't black or white. He was orange". That same year, McClain helped end racial segregation on the football fields of the Southeastern Conference by earning a varsity letter for the University of Tennessee.
McClain was born in Nashville on September 17, 1949. He attended Haynes High School in Nashville for his freshman through junior years, as he was unable to attend the school closest to his home, Antioch High, because it was not racially integrated. In his senior year, McClain was allowed to attend Antioch High where he met UT alum Bill Garrett who ran the morning football practices. Garrett liked what he saw and approached Coach Dickey on McClain's behalf. Tennessee recruited McClain primarily to be a roommate for an exceptional high school athlete named Albert Davis, who most thought would be the first to integrate UT's football program. When Davis went elsewhere, the burden fell to McClain, and he rose to the occasion. During his three seasons at UT, McClain caught 70 passes for 1,003 yards and 10 touchdowns. He also rushed 30 times for 123 yards and two touchdowns and returned eight kickoffs for 168 yards.
McClain was honored by the East Tennessee Chapter of the National Football Foundation and Hall of Fame. He is also a member of the Metropolitan Nashville Public Schools Sports Hall of Fame and UT's Athletics Hall of Fame, and he has earned the Maxwell House Sport Award.  In 1987, McClain was appointed to an alumni position on UT's Athletic Board. He has also received numerous state appointments including the Tennessee Human Rights Commission by Governor Lamar Alexander.
McClain, who has been with State Farm for 33 years, has four children: Angela Harrison, Dr. Andre Scott, Treasure McClain, Esq., and Dr. Justin McClain. He also has one granddaughter, Jordyn Scott. Lester and his wife Virginia celebrate 44 years of marriage.