Year Inducted: 2016
Category: Football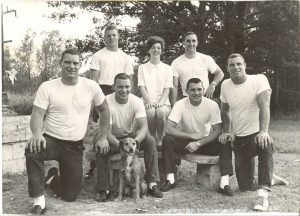 Six brothers dedicated to their faith, family and football. In John Branston's, Rowdy Memphis, he called the Canale Brothers "The first family of Memphis jockdom." The brothers would have disavowed such celebrity. They're far too humble.
From oldest to youngest, Frank, George, Whit, Justin, Billy and Conn grew up on the family's 70-acre hay farm just east of Memphis. A 1964 Sports Illustrated article described the six sons as having "made the family name the most notable in southern football … the seventh might have added to the family football stature had not her parents named her Mary Arnette." Their father, George Canale Sr., had played for Notre Dame. When asked if his sons got their athleticism from him, he insisted it came instead from their mother, Augusta Hise Canale, a former All-State basketball player.
The young men grew strong on the farm, described by one writer as "a gladiatorial training ground"; it had ball fields, a shot put pit and hurdles. This remarkable family gene pool was sought out by the premier football programs across the South. A 'who's who' of coaching notables — including John Vaught and Paul "Bear" Bryant, on multiple occasions — visited at the Canale dinner table.
The brothers all starred at either Christian Brothers High School or Memphis Catholic, and each played football in the vaunted Southeastern Conference; Frank, George, and Whit at the University of Tennessee, and Justin, Billy and Conn at Mississippi State. One game found Mr. and Mrs. Canale in the end zone to remain neutral. Each player was lettered, and some set records in football and track at those schools. George was drafted by the Canadian Football League, while Whit and Justin played professional football for the Bengals, Dolphins, Steelers and Patriots.
At the core of their athletic achievement — rooted in dedication, humility, generosity and faith — lies a family bond, uncommon and profound. As the Sports Illustrated piece stated, "their loyalty to one another is legendary." Impeccable manners, respect for women, their elders, and God were and are a part of everyday family life. The Canale brothers have indeed personified much of that which is exemplary in American sport and the American South.