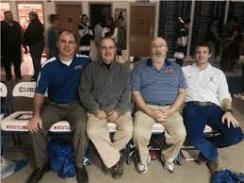 Three decades ago, Cleveland wrestling coach Al Miller was the trend setter in Tennessee wrestler as he invited eight teams to compete for the title of duals champion.
"A coach at Ooltewah was from New Jersey and explained how that state ran an in-season two day duals tournament so we tried it and it's very successful every year," said now retired coach and teacher Al Miller.
Now known as one of best duals events a three state area, Saturdays Al Miller-Cleveland Duals will have 16 entries; four teams in four pools in a round-robin format with wrestling set to start at 9 a.m. and finals late afternoon.
Miller also noted that then TSSAA executive director Ronnie Carter came to the duals a couple of years after the inaugural one, liked what he saw and the state championship duals was first held in 1988.
"I like the duals format, because a kid can have a tough day and lose two to three matches early in the day, but comes back and wins a big match for you in the finals and feel like he has contributed," said Miller.
Surprise Guest: Al Miller founded the Cleveland Duals in the mid 1980s …
… His high school coach Dr John Farr made a surprise appearance for the Cleveland alumni wrestling dinner – where Miller was honored for 40 years in the sport.
Ironically, Dr. Farr, the head wrestling coach at Red Bank in the 1960s, hosted the state's first in-season traditional tournament  – Dec. 29-30, 1967 – and Miller, a junior at Red Bank worked one of the scorers' tables and wrestled in the second annual Lions tourney the next year.
Dr.Farr moved the Red Bank Invitational to Jan. 2-3, 1969 in year two and by year three he took the tourney to Chattanooga Central as Ryan won it that year.
Today, the Central Invitational is directed by Central coach John Lennon who has been noted as the best wrestler in the Miler Era.
Lion Wrestler Turned UTC Golf Coach: Mark Guhne is in his 10th year as the Mocs men's golf coach, but thirtysomething years ago (33), he helped lead the Al-Miller coached 1980 squad to the school's first traditional state crown since coach Farr and the Lions of the 60s won three straight, 1963-64-65.
Top Cleveland Wrestlers in the Al Miller Era
Johnny Lennon – Best high school wrestler
Howard Langford –  Most accomplished overall. (Most outstanding wrestler in state & Southern Conference, & NCAA D-I All American.)
Nathan Jones – State champ and NCAA Div. II All American @ Carson-Newman.
Jeff Howard – 3-time state place finisher & college wrestler
Carlos Thompson – 2-time state champion and 4-time state placer.
Danny Coleman – 2-time state champion & 4-time state finalist.
Michael Bowerman – state champion
Bryant Crump – state champion
Dr. John Owens – 2-time state finalist & outstanding football player at 150 lbs.
Josh Coleman-  outstanding team leader, 2-time state place finisher and place in national. preps and wrestled in college.