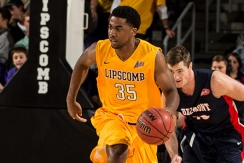 Two key factors played a role in Belmont's lopsided win over Lipscomb on Wednesday night.
Not only are the Bruins riding a wave of momentum, which included an upset of North Carolina last Sunday, but also they have already made improvement in a young season.
There was no denying it in a 94-64 route over the Bisons, which came before a Curb Event Center crowd of 4,054.
It was Belmont's fifth consecutive win in the series, which the Bruins (4-1) now lead 14-9 in the NCAA era.
Just 12 days earlier Lipscomb (2-3) had rallied in the second half to take a lead. Belmont had to fight to move back in front and then held on for an 83-80 victory at Allen Arena.
"They are a significantly better team than they were the first time we played," first-year Lipscomb coach Casey Alexander said. "Belmont is such a rhythm team that when things are going their way they're literally about as good as anybody. We could never sustain anything tonight. We could never put two or three stops together, we could never get two or three scores to settle ourselves down and so they dictated the game on both ends of the floor for 40 minutes."
After Belmont took a 29-16 advantage on a 3-pointer by J.J. Mann the Bisons never got any closer the rest of the way.
"We have gotten a lot better even though it's only been two weeks," said Mann, who finished with 17 points and six rebounds. "We shot a lot better (56.5 percent), our defensive intensity was great, we were active and we took it to them."
Belmont held Lipscomb to a season-low 33.9 percent (21-of-62) on field goals. The Bisons made just 6-of-20 (30 percent) 3-pointers.
The Bruins lost to Richmond on Nov. 11 and fell behind Indiana State by 16 points at the half in the following game. They rallied for a 96-95 win over the Sycamores and have been on a roll ever since.
They beat North Carolina, ranked 12th at the time, 83-80 in Chapel Hill.
"From the second half of the Indiana State game on we've been a really good offensive team," said Belmont coach Rick Byrd. "We're still mixing in a lot of new people and we're not as sound on either end as our teams the last couple of years have been. They're still trying to understand what I'm trying to get them to do."
Freshman Evan Bradds came in off the bench and led Belmont with 19 points and eight rebounds. He was 6-of-8 from the field and 7-of-7 on free throws. Bradds, who played only 20 minutes, scored five consecutive points late in the first half that left Belmont with a 41-23 lead.
Carter Sanderson led Lipscomb with 21 points in the first game, but was held scoreless until 12:51 remained in Wednesday's game. He finished with six points after making just 1-of-3 field goals.
The Bisons were led by J.C. Hampton with 16 points. Malcolm Smith added 14 and had a team-high eight rebounds.
The victory stretched Belmont's home win streak to 22 games, which leads the nation.