CLARKSVILLE— CoachRick Byrd got his 700th career win Saturday night when Belmont held off Austin Peay 89-83 at the Dunn Center.
Byrd is now 700-363 in his 34-year career.
Byrd joined Mike Krzyzewski, JimBoeheim, Bob Huggins, Roy Williams, Bo Ryan, and Rick Pitino as the activeNCAA Division I coaches with 700 career victories.
"The best part about it for me was seeing our players and fans and my family was there and how they were excited for me and all of that," said Byrd, a Knoxville native who attendedDoyleHigh School and graduated from the University of Tennessee. "That by far was the best part."
Byrd is in his 29th season at Belmont, where his record is now 608-308.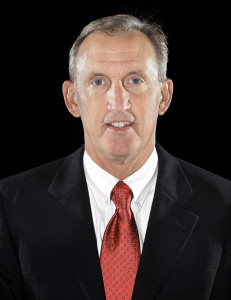 Byrd began his coaching career in 1978 at Maryville College, where he compiled a record of 23-27 in two seasons. After spending three seasons as an assistant coach at Tennessee Tech, Byrd took over the LincolnMemorial programandwent 69-28 in three seasons. He joined Belmont in 1986.
The Bruins (11-7, 3-2 OVC) had lost their previous two games, falling to Eastern Illinois (84-73) andMurray State (92-77). It had marked the first time in five years that Belmont had dropped consecutive conference games.
Byrd said he was happier about snapping the two-game losing streak than he was getting his 700th win.
"I hadn't thought about (the 700th win) much. I wasn't worried about it," he said. "I was way more worried that we weren't playing very good. We needed this win."
It was Belmont's fifth consecutivewin over Austin Peay (6-11, 1-2).
Belmont, which led 38-37 at halftime, pulled in front 70-55 midway through the second half.
Austin Peay rallied late andcut thedeficit to82-77.
Belmont then cranked up its defense and the Governors made just one of their next six shots.
Evan Bradds went 8 of 8 on field goals and 6 of 7 from the line to lead Belmont with 22 points.
ChrisHorten ledAustin Peay with 23 points and 11 rebounds.
By: Mike Organ
Published: Knoxville News Sentinel