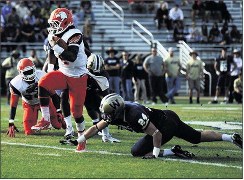 The math was simple for Carson-Newman University coming into Saturday's football game against Wingate.
A victory meant, barring any unforeseen Super Region Two last-minute leapfrogging, a guaranteed Division II playoff spot a nd likely a home game next week. A loss and the No. 21-ranked Eagles would hang up their pads for the season.
Carson-Newman solved that math problem, beating the Bulldogs 52-35 at Irwin Belk Stadium.
"We punted one time and lost two fumbles, but other than that I think we hit paydirt every time (on offense)," C-N coach Ken Sparks said. "We're grateful for that. We had to fight for every single thing that happened today." The Eagles (9-2, 5-2 South Atlantic Conference) wi ll fi nd out seedings and matchups Sunday, along with the rest of the playoff field, when the NCAA announces the selections live at 5 p.m. on NCA A .com.
Sophomore quarterback De'Andre Thomas is in the midst of a spectacular debut season so far, but he saved his best for Wingate. Thomas rushed for 123 yards and three touchdowns and completed 13 of 16 passes for 172 yards and two touchdowns in a dominating performance that had t he fi rst-yea r sta r terexhausted by the end of the game.
Thomas' biggest play came with C-N nursing just a three-point lead late in the fourth. The Eagles had great field position after a 38-yard kick return from TraShaun Ward. Wit h five m i nutes left i n the game, Carson-Newman didn't grind the clock. Instead, Thomas droppedback to pass on first down and found Luther Walker streaking down the left sideline for a 47-yard touchdown strike.
"We had to execute what was called," Thomas said. "There at the end, that was a great call from (offensive coordinator) Coach (Michael) Turner. I looked at the corner and the safety. I pumped the corner andwe had a big play and the offensive line gave me enough time to throw the ball." C a r s o n – N e w m a n opened the game strong, building a 21-0 lead midway through the second quarter. Former Gibbs High School standout Andy H ibbett scored t he fi rst touchdown, taking off right up the gut of Wingate'sdefense for a 54-yard touchdown run. Thomas scored the next two touchdowns, first on a 16 -yard run and then a 3-yard dive where he rode his offensive line into the end zone.
But it was Thomas' passing that opened up t he offense a nd kept t he run lanes open. Thomas completed passes to Ward, Walker and former Alcoastandout Steven Isom to convert big third downs along the way, including a 9-yard touchdown pass to Isom on third-and-6 to go up 35-14 in the third.
Running back Brandon Baker probably had his best game without a touchdown against Wingate (4-6, 3-4), gaining 150 yards on the ground and, more importantly, helped spring backfield mate Tyron Douglas for many of his 112 yards and the 17-yard touchdown that clinched the game.
"I had my best play of the game when I blocked for Tyron and he scored," Baker said. "We knew they weren't going to end our season. This is their last game and we knew they were going to play us tough."