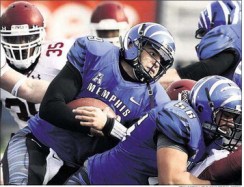 It was unlike any game in the two years Justin Fuente has been Memphis football coach, a lopsided loss to a struggling opponent in a game in which no one was immune from lackluster performance.
The Tigers' nationally ranked defense was trampled upon for 534 yards. The offense, averaging a subpar 325 yards per game, managed but 228 yards against an opponent allowing nearly 500. And the special teams allowed a rare score as punter Tom Hornsey, a Ray Guy Award finalist, had only the second punt of his four-year career blocked. The ball was recovered in the end zone for a touchdown which, mistakenly, caused stadium workers to ignite fireworks as if the Tigers had scored.
It was that kind of day at Memphis.
In the team's final home game of the year, the Tigers dropped a 41-21 American Athletic Conference decision to a one-win Temple team before a crowd announced as 25,671, but a gathering that was significantly less. There was little to celebrate at Liberty Bowl Memorial Stadium following the loss – the most one-sided defeat of the season.
Fuente was so incensed at his team's play that he allowed only one player – freshman receiver Sam Craft, who scored threetouchdowns – to be interviewed.
"Temple showed up and beat us in every facet of the game," Fuente said. "They played better than we did everywhere, physically, from the opening kickoff." In the first half, the Tigers (3-8, 1-6 AAC) were limited to 18 plays and 74 yards. They yielded 310 yards to the Owls, whose time of possession dwarfed Memphis (21:28 to 8:32) in the opening half.
Temple dual-threat quarterback P.J. Walker passed for 328 yards and four touchdowns – andrushed for 59 additional yards – to lead the offense. Owl receiver Robby Anderson caught three touchdown passes and tight end Chris Coyer had three catches for 129 yards and a 75-yard TD.
The Owls (2-10, 1-7) finished with 206 rushing yards, the only Memphis opponent this season to surpass 200 yards.
"When they can run the ball as well as they ran it, it puts some pretty good strain on a secondary," Fuente said. "They caught us in a couple of run-pass conflicts where we hadguys strain to hold up in the run game, yet had pass responsibilities and hit us on a big play."
MTSU 48 UTEP 17:Logan Kilgore threw for 325 yards, completing 19 of 27 passes, and two touchdowns as Middle Tennessee overwhelmed visiting University of Texas at El Paso.
Kilgore, who completed 15 of 21 passes for 226 yards in the first half, struck quickly, hitting Marcus Henry on a 21-yard scoring pass at 10:56 in the first quarter.
Jeremiah Bryson, who rushed for 120 yards on 15carries, scored from the 10 at the beginning of the second quarter to give Middle Tennessee (8-4, 6-2 Conference USA) a 24-0 lead. The Blue Raiders led 34-7 at the half.
Middle Tennessee amassed 629 total yards while limiting UTEP (2-10, 1-7) to 299.
This was the fifth consecutive win of the season for Middle Tennessee. They now have back-toback seasons of eight or more victories.
Nat ha n Jeffer y led t he Miners, rushing for 140 yards on 20 carries.
Tennessee State 31, Butler 0:Michael German tossed two touchdown passes and Ryan Mitchell had two touchdown receptions as Tennessee State routed Butler at Indianapolis in the first round of the FCS playoffs.
German connected with Mitchell for a 25-yard touchdown pass in the first quarter and with Wesley Samuels for a 17-yard score in the second as Tennessee State (10-3) built a 17-0 halftime lead.
The Tigers extended their lead to 31-0 in the third quarter with a 26yard interception return for a score by Daniel Fitzpatrick and a 21-yard touchdown pass from Ronald Butler to Mitchell.
Tennessee State advances to face conference foe and No. 2-seeded Eastern Illinois on Dec. 7, which beat the Tigers 34-16 earlier this season.