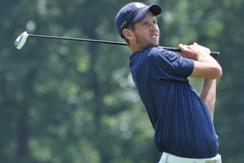 Steven Fox, the 2012 U.S. Amateur Champion, captured himself a five-stroke victory at the 98th Annual Tennessee State Amateur Championship hosted by Chattanooga Golf & Country Club Friday.
Coming into the final round, Fox had a single stroke lead over Carson Jacobs at 7-under-par. He proceeded to capitalize in the final round and fired a 67 which made his 72-hole total 270 (-10 under par).
Fox, from Hendersonville, started the day off slow with two bogeys in the first three holes. The former UT-Chattanooga standout then answered with 5 birdies in the last 16 holes to secure his win.
There was a tie for second place. Defending champion Tim Jackson of Germantown and Chattanooga's Keith Mitchell both fired a total of 275 (-5 under par) to end the tournament.
Fox plans to go professional just following next week's U.S. Amateur Championship of which he is defending his title. This will be his last time competing in the Tennessee State Amateur.
Cleveland golfer Hunter Vest made a charge Friday with four birdies and a bogey for a 3-under 67 to move up the leaderboard from a tie for 46th place to start the final round to a tie for 22nd when all was said and done. The Lee University NAIA All-American finished with a 72-69-77-67 — 285 total, the same as Chattanooga's Richard Keene and Ben Reeves from Knoxville.