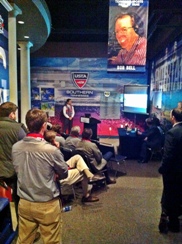 Filling a void left by last summer's demise of the Nashville Metros, Nashville Atlas FC will bring semi-pro soccer back to Music City in the spring of 2014.
The National Professional Soccer League recently approved the expansion franchise. The NPSL is in the fourth division of the U.S. Soccer pyramid, which is about the same skill level as the league the Metros played in, the Premier Development League.
"We're really excited about it, and we've got a lot of people reaching out to us because they're excited about what we're doing," said Nolan Pittman, a former Belmont soccer player who's led the drive for the new team along with partners Andrew Day and Younes Koukkouche.
"We just want to be a catalyst. We're passionate about the sport, about the city of Nashville, and we just really want to see soccer succeed here. So we're really grateful for all the people that are putting their support behind us."
Nashville Atlas FC will have no connection to the Metros, who failed to field a club last summer for the first time since the club was founded in 1989.
Pittman, who will serve as the team's general manager, said Nashville Atlas FC is still in the process of interviewing for a head coach and negotiating for a home stadium.
But the team is scheduled to begin play in May of 2014, competing in the NPSL's Southeast Conference against opponents such as Chattanooga FC, Knoxville Storm, Rocket City United (Huntsville, Ala.), and Mississippi Storm.
Having a number of close geographic rivals in the NPSL should benefit Nashville Atlas FC, as opposed to what the Metros were dealing with in the PDL.
Former Metros owner Martin Maciel said earlier this year he'd been spending $80,000 to $100,000 a year for his team's travel costs, with the Metros playing some relatively far-flung divisional games in south Florida, northern Virginia and central North Carolina.
"As we looked at both (the NPSL and PDL), one of the initial attractions was having teams from Chattanooga and Knoxville in this league, and we thought to ourselves, 'How cool would it be to have two in-state rivals from Day 1?' " Pittman said. "That's something you can build on and create some relevance around with our people here in Nashville."
NPSL teams are open to amateur players from the high school, college and former professional ranks. College players who compete for NPSL teams during the summer maintain their eligibility.
"We have a desire to try to build a team with as much local presence as possible," said Pittman, 30, who has a master's degree from Vanderbilt and coached youth players at Hendersonville's Tennessee United Club for five years. "We want to represent the local Nashville soccer product. That's a drive of ours.
"Certainly we're going to have some college athletes and in addition, you may have guys coming off the tail end of a professional career who want to retire their career in Nashville. So it's really cool how you can put a team together and use your influence, and sort of establish your identity on the pitch."
Pittman and Koukkouche first began talking about the possibility of forming a semi-pro team early last year, and that the idea really picked up steam when the Metros shut down for financial reasons earlier this year.
"We decided, 'OK, now is the time to do it — the window of opportunity is here,' " Pittman said. "We started getting aggressive early in the spring and pieces continued to fall into place. We were able to land some investors in July to help us get this done, so we've launched the team and here we are."
The Nashville Atlas FC held a launch party and viewing reception at the Tennessee Sports Hall of Fame last night.  For more information on Nashville Atlas Football Club visit www.atlasfootballclub.com.