NASHVILLE – Vanderbilt coach Derek Mason has named Patton Robinette as his starting quarterback a week before the Commodores' season opener against Temple.
Mason announced his decision Thursday night.
"I'm excited for Patton as we prepare this team for the season opener next Thursday," Mason said in a statement. "Patton has really made strides and consistently improved from the spring to now. I believe he has worked to earn this opportunity." Robinette was a two-time state champion in high school at Maryville, where he completed 71.3 percent of his passes as a senior.
The 6-foot-4 Robinette, the only quarterback with any starting experience at Vanderbilt, beat out Johnny McCrary and Stephen Rivers, the younger brother of Philip, who is quarterback for the NFL's San Diego Chargers. The Commodores started fall practice with six quarterbacks competing.
Robinette, who redshirted in 2012, played in 10 games last season. He started in a loss at Texas A&M, Vandy's first win in Gainesville against Florida since 1945 and the bowl win. He also helped beat Georgia and Tennessee.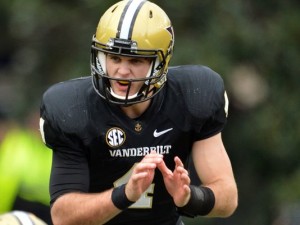 Courtesy of: Knoxville News Sentinel
Published by: Associated Press