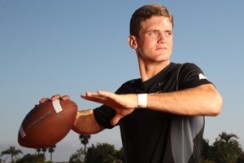 Vanderbilt starting quarterback Austyn Carta-Samuels won three games and beat rival Tennessee while playing on a torn ACL, but he has ta ken his final snap as a Commodore.
Coach James Franklin said Carta-Samuels had surgery on his left knee after the season finale and will miss the BBVA Compass Bowl against Houston .
Redshirt freshman and former Maryville High School standout Patton Robinette, who started two games in Carta-Samuels' absence and shared reps over the last threegames, will start the Jan. 4 game in Birmingham. An emotional F r a n k l i n a d d r e s s e d his senior captain's status after practice on Monday when he was asked about Carta-Samuels, who has been on crutches the last two weeks. Franklin kept the extent of the injury a secret for two months.
Carta-Samuels tore his ACL in the first h a l f of Vanderbilt's 31-27 win over Georgia on Oct. 19 and missed the next two games at Texas A&M and Florida. He returned on Nov. 16 against Kentucky wearing a knee brace and led comeback wins over UT and Wake Forest.
"Really proud of that kid," said a teary-eyed Franklin. "He rehabbed and was able to come back and was able to get a brace that he was able to practice in and play in. He put the team above himself, and then he had surgery right when the season ended and he's going to try to get ready for his pro day." Carta-Samuels was unavailable to comment on Monday. Franklin said Carta-Samuels was never put in harm's way and wanted to return once he was cleared by doctors nearly a month after hisinjury.
There were discussions about whether Carta-Samuels would continue to put off surger y to play in the bowl, Franklin said.
"If he'd done that, he wouldn't have been able to do the pro day (in March)," Franklin said. "He … put t h is tea m fi rst for a long time, so at that point we just felt like it was in (his) best interest.
"It also gave us time to get Patton ready and get Patton some more reps and develop him. Patton has done a great job and he's ready to go there." Freshman Johnny Mc-Cray becomes the No. 2 quarterback. But Franklin does not want to burn his redshirt for the bowl gameshould Robinette need to come out.
Franklin will look at other options, including players at various positions now who were quarterbacks in high school.
Texas Opening: Fra n klin was asked about being a potential candidate for the Texas job that opened up when Mack Brown resigned over the weekend. Franklin is leading a coachingsearch.com poll about who should be the Longhorns' next coach.
"I'm really excited about playing Houston," Franklin said. "That's what our focus is. Any of those other things, you know, we don't talk about that are outside of our area of control or focus or concern."