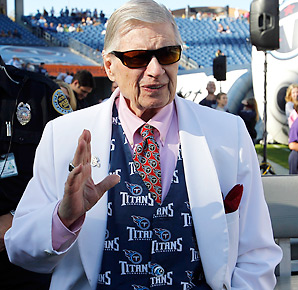 On numerous occasions over the years, Tennessee Titans owner Bud Adams entertained offers from parties interested in buying his football team. Each time he said thanks, but no thanks.
A d a m s loved owning the Titans, and being the boss. Many believe it's what kept him going for so many years.
On Monday, Adams died at the age of 90. He spent the last 54 years of his life as founder, owner and president of the Titans/Oilers franchise. Now, his death raises questions about what's next for the franchise.
Back in 2008, Adams offered insight into his succession plans in an interview with The Tennessean. But exactly what happens now remains uncertain, and probably won't come into better focus for months.
Here's a look at some key issues, and how I believe they'll play out:
How will ownership be divided?
Adams' company, KSA Industries, is the parent company of the Titans. Following Adams' death, the ownership is now split three ways – between histwo daughters, and the family of his deceased son, with each getting one -t h i rd .
With their father's death, sisters Amy Adams and Susie Smith now own roughly 33 percent each of the parent company, and the family of his deceased son, Kenneth Adams III, also owns one-third – his grandsons, Kenneth IV (11 percent) and Barclay Cunningham Adams (11 percent), and their mother, Susan Lewis (11 percent).
So who will end up running the team?
At some point, the minority owners will have to select a controlling owner. The expectation is Susie Smith will ultimately be named controlling owner, and then appoint her husband, Tommie Smith, to look over the team in more of a decision-making role. Until a few years ago, a controlling owner had to own at least 30 percent of the club, but the league has since reduced that number.
When the Oilers moved to Tennessee back in 1997, Adams' son-in-law was offered an opportunity to move to Nashville and help run the franchise, but he declined. Now Tommie Smith could very well end up calling the biggest shots in the future.
What about the grandson?
Kenneth Adams IV currently serves as Administrative Assistant to Senior EVP, General Counsel, with the Titans, where he's worked seven plus years. The University of the South graduate is well-liked around the team, and he's proven to be a sharp guy. Yet while there's been plenty of speculation he could take on more of a leadership role within the franchise – at one point Bud Adams said that's what he envisioned – indications are that won't be the case.
Right now, I wouldn't bet on Adams IV having a big role.
When will the ownership process be finalized?
It could take months. The controlling owner will apply to the NFL, and then need to be approved through the league's vetting process. There shouldn't be an issue since ownership has been in the family for 54 years.
Owners would eventually have to vote, and approve.
So what happens in the meantime?
I expect it to be business as usual for the Titans, at least with top executives like General Manager Ruston Webster, Executive Vice President of Administration and Facilities Don MacLachlan and coach Mike Munchak. After being promoted by Adams, Webster's been the decision-maker on the football side in Nashville the past few years, and that should continue. Even before Adams' death, family members, including Smith, had already been in communication with team officials in recent months, so that won't be a dramatic change.
How much was Adams involved leading up to this death?
Because of his declining health, Adams had be en less i n fluent i a l i n recent months. Roughly 19 months ago Adams got stirred up enough to spark the team's pursuit of quarterback Peyton Manning, and back in the spring, he set the wheels in motion for a $100 million-plus spending spree in free agency. But compared to years past, Adams wasn't as involved in day-today operations in recent months. Others in the organization have been attending owners meetings for years.
So will Webster and Munchak keep their jobs?
All indications are the family has a good relationship with both Webster and Munchak, who has worked for the organization since 1982, starting as a player. I would imagine the last thing the family wants to do is go through the exhausting process of changing the faces at the top. Munchak, whose contract ends after the 2014 season, probably doesn't need his team to go completely off the tracks in the second half of the season, however.
What are the chances the family will end up selling the team?
This one is impossible to predict, but I say it's doubtful, at least at this point. Yet while Adams never seriously considered selling the team, the family isn't as football crazy as the man who co-founded the American Football League, and ran the Oilers/Titans for all these years. They haven't regularly attended Titans games, or been especially close to the team. Part of the reason for that is because Adams had full control then. How much that changes in the coming months and years, remains to be seen.