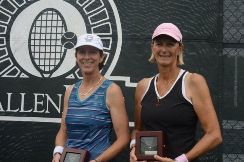 It was a very good weekend for GPS tennis coach Sue Bartlett as she helped the Women's Southern 55s team capture the USTA National Women's Intersectional Team championship and she was also notified that she will be a member of the Great Britain Women's 55s World Team next spring.
In the intersectional matches played in Boca Raton, Fla., Bartlett won a doubles match and two singles matches, one of which was against Caroline Nichols who is ranked No.3 in the nation in Women's 55s.
The Bartlett-Nichols  match went four hours before the former UTC All-American rallied to win in three sets.4-6, 7-5, 6-4.