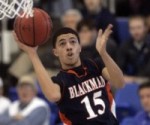 Blackman High School point guard Darius Thompson put pen to paper Wednesday, signing a National Letter of Intent to officially becoming the fourth incoming member of coach Cuonzo Martin's 2013 recruiting class.
"Darius has a very high basketball IQ, and he's good at making individual plays and also facilitating the offense and getting others involved," Martin said in a UT press release. "At 6-4, he's got good size for a point guard. He's a proven scorer who can shoot it with range, and I'm confident that he's going to be able to help us in a number of areas."
The Murfreesboro native averaged 16.4 points, 6.4 assists, 3.6 rebounds and 2.3 steals as a high school senior.
"He's been recruited to UT as a point guard and I think he'll be one of the best passers," Blackman coach Barry Wortman told the News Sentinel. "He's a heck of a passer in the open floor. I think he'll make an impact because of his ability to make teammates better. He's a coach's son who understands how committed you need to be on a daily basis and he's still improving."
Lonnie Thompson, Darius Thompson's father, is in his 10th season as head coach of NAIA Cumberland University in Lebanon. He previously worked as an assistant at Creighton, Middle Tennessee State and Tennessee State.
Blackman went 56-5 the past two seasons.
"He's impacted everything in our program," Wortman said.
With another Letter of Intent expected later this week from 6-10 center Rawane Ndiaye, who committed to UT on Tuesday, the Vols will sit two scholarships over the NCAA limit of 13.
Speculation is the result. Questions continue to stir whether Jarnell Stokes will return to UT or forego his junior year to pursue professional aspirations. Regardless, Thompson's addition, combined with the Vols' scholarship situation, has resulted in questions surrounding incoming freshman Travon Landry.
The Huntington Prep point guard committed to UT in December of 2011 while still attending Bob Jones High School in Madison, Ala. Playing at Huntington alongside a bevy of Division I talent — including Andrew Wiggins, the national player of the year — Landry averaged 2.7 points and 2.8 assists per game and went 2-for-29 on 3-point attempts this season.
Huntington finished 30-3, ranked No. 7 in the USA Today Super 25.
Landry's lack of production, though, is a hot-button topic among UT fans.
"I talked to (Tennessee assistant) Tracy (Webster) and, as of two weeks ago, nothing had changed, other than that they had signed another point guard," Travon Landry's father, John, told the News Sentinel on Wednesday. "I haven't been told anything different than what we originally agreed on back at the early signing (period)."
Landry signed his National Letter of Intent with UT on Nov. 15, 2012. A letter of intent stands as a school's binding agreement to provide financial aide to a student-athlete for one academic year.
A school can grant a student-athlete a "full release" from his or her letter, but only if the student-athlete requests it.
"We understand that there's pressure on them because the kid didn't put up big numbers," John Landry said. "I get that. I understand that. But in terms of a coach coming and saying, 'John, we have to reconsider,' we haven't had that conversation."
John Landry said Travon Landry's offensive numbers were skewed this year because of the team-wide talent at Huntington, adding, "If you go back and watch every game they played and reverse it, every kid that Travon had to guard — that kid never scored more than six points."