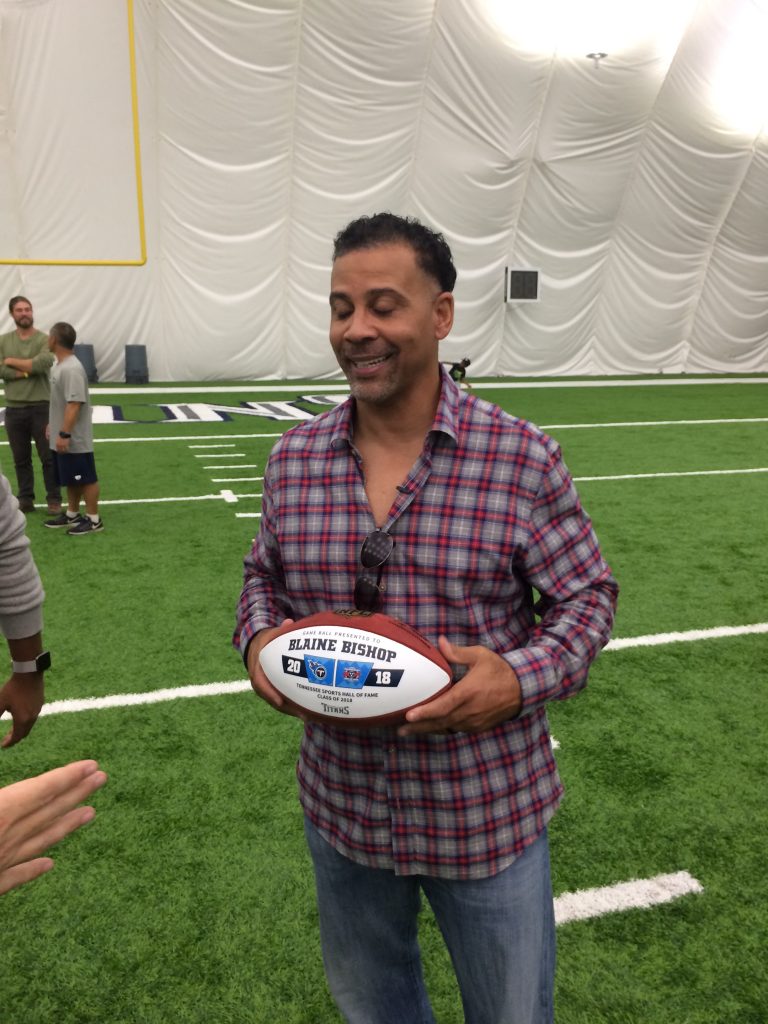 NASHVILLE, TN., Nov. 4, 2017 – Former Tennessee Titans' safety, Blaine Bishop, was surprised at today's Tennessee Titans Homecoming Alumni event when the Titan's announced his induction into the Tennessee Sports Hall of Fame as a member of the 2018 Class. Bishop will be inducted into the Tennessee Sports Hall of Fame at the 52nd Annual Induction Banquet on Saturday, June 16, 2018, at the Omni-Nashville Hotel.
Blaine Bishop spent his youth in Indianapolis playing high school football at Cathedral High School where he was known as an outstanding athlete. Bishop played college football at St. Joseph's College before transferring to Ball State in Indiana, where he stood out as a hard-hitter, but his playing ability did not override his size in the minds of the NFL draft scouts. Bishop was not selected until the 8th round of the NFL Draft landing at 214th overall with the Houston Oilers. Bishop had a very successful career with the Oilers being an anchor on the defense and becoming a fan favorite known as the "Hit-Man" because of his hard-hitting play. When the team moved to Nashville as the Tennessee Titans, Bishop and his accompanying defense took the team to new heights, becoming the pinnacle of NFL defense. The eighth-round pick earned four pro bowls in his 9 years with the Titans, helping the team win their first AFC Championship Game and advance to the Super Bowl. Bishop earned Pro-Bowl stats in 1995, 1996, 1997, and 2000 and a three-time All-Pro selection, in 1995, 1996, and 2000. Bishop is still widely recognized as the NFL's premier hitting safety during his tenure with the Oilers/Tennessee Titans. Bishop's NFL career will be remembered as one of perseverance and a work ethic that was admired not only by his team, but by his opponents.
After retiring from his playing career, Bishop went straight into sportscasting and has a successful career on Nashville's "104.5 the Zone" where he can now be heard as part of their Wake up Zone Morning Show.
Tickets and sponsor packages for the induction banquet weekend can be purchased by contacting Lynn Powell Toy at 615.202.3996 or lynnpowelltoy@gmail.com.
The Tennessee Sports Hall of Fame, which held its first induction banquet in 1966, has as its goal to enshrine successful teams and individuals who display sportsmanship, good character and success, creating a legacy for others to follow. The Tennessee Sports Hall of Fame Museum is housed inside the Bridgestone Arena in Nashville.
The Tennessee Sports Hall of Fame, a 501c3, pays tribute to all those who have made an impact through sports in Tennessee. The Hall subscribes to the principle that sports serve society's highest ideals by educating youth through sports. It promotes the virtues of competition, fair play, friendship, solidarity, mutual understanding and respect for human dignity. The best way to honor our sports legends is to pass this legacy down to future generations.