Jane Greer Puckett of Tullahoma, TN passed away on April 22, 2016, at the age 93.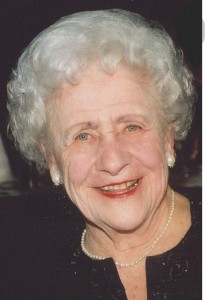 She, along with her husband, and three other Tullahoma couples founded the Tullahoma Swim Club in 1959. With this step in growing the Tullahoma community no one had any idea that her energy and vision would have lasting effects on the youth of Tullahoma, the State, the Region and the Nation through the Amateur Athletic Union (AAU). From hosting three of the largest state swim meets in the early 1960's, she and "Puck" became active in the Southeastern AAU (SEAAU) and the National AAU. They Co-chaired with Joel Ferrell of Tullahoma, the 2nd and 4th annual Jr. Olympic (JO's) Games in Knoxville, TN. That event has grown from 5 sports to a truly multi-sport spectacle involving young athletes participating in more than 30 sports annually.
Although her many accomplishments as an AAU volunteer and in the sports world are too numerous to mention, the following positions highlight some of her successes: First female President of the SEAAU, National Registration Chair of the AAU, AAU Executive Committee, Chair of Joel Ferrell National Awards Committee, Alabama and Tennessee State Games steering committees, Acting Executive Director of the AAU during National Sports Act transition period, US Olympic Committee meetings and Olympic games attendance and volunteering, and, Chaperone on European youth sports trip.
Awards and recognition for her work are as follows: Life Member of the AAU, SEAAU Volunteer Leadership Award, AAU President's National Leadership Award, National AAU Ira Hurley Award for Outstanding Service, National AAU Spirit Award, "Sports Travel" Magazine Rosey's Hero Award, Dedication of Track and Field stand at Memphis University (Jane and Jim), and, Dedication of Region III Track Meet, Albany, GA. She was recognized in 2003 by the "Nashville Tennessean" as the sixth most powerful woman in the state of Tennessee in Sports. The award that she was the proudest of was the naming of the annual Jane Puckett SEAAU Leadership Award in 2002 of which "Puck" was the proud recipient in 2004.
She has been inducted in numerous Halls of Fame:
Tennessee Swimming Hall of Fame – 1986
AAU Volunteer Hall of Fame – 1989
Tennessee Sports Hall of Fame – 2002
The family has requested that in lieu of flowers donations be made in her memory to the First Presbyterian Church of Tullahoma, www.fpctullahoma.org; Southeastern AAU, www.southeasternaau.org; Tennessee Sports Hall of Fame, www.tshf.net; and, in honor of her friend Pat Summitt and to support the study of and prevention of dementia related diseases, The Pat Summitt Foundation, www.patsummitt.org.