Amateur Team of the Year
Year Honored:2016
Category: Tennis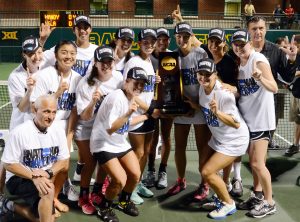 Vanderbilt's Women's Tennis Team made history in 2014-15 with a memorable run through the Southeastern Conference and NCAA Tournaments.
In April, the Commodores defeated Georgia to win the SEC Championship in a thrilling, 4-3, match that was clinched by senior Marie Casares.
Exactly one month later, Vanderbilt defeated defending National Champion UCLA in Waco, Texas to win the program's first-ever NCAA team championship. The Commodores' Astra Sharma won three matches in a row to earn the NCAA's Most Valuable Player award.
Vanderbilt head coach Geoff Macdonald was later voted the Wilson/ITA National Coach of the Year and Aleke Tsoubanos was voted the Assistant Coach of the Year by their fellow coaches.