Former Tennessee coach Phillip Fulmer will be on the radio airwaves in Middle Tennessee just in time for the start of the college football season.
Fulmer will serve as co-host of a weekly show, which debuts next week, along with former Vols assistant coach Doug Mathews.
The one-hour show will air on a network of stations either Thursday or Friday evenings or Saturday mornings.
Mathews coached on Fulmer's staff from 1980-89 before leaving to become the defensive coordinator at Vanderbilt.
"We developed a relationship that goes very deep and we enjoy talking football," Fulmer said. "This seemed like a natural way to work together again."
The show will air on Saturdays in Nashville (104.5-FM), Cookeville (93.7-FM), Lewisburg (94.3-FM), Linden (101.3-FM) and Manchester (107.9-FM, 1320-AM).
It will be on Thursday's in Clarksville (100.7-FM, 540-AM) and Fayetteville (105.5-FM) and Friday's in Lawrenceburg (98.3-FM).
"I want fans to walk away thinking 'I learned something' or 'I never thought of it like that,''' Mathews said. "We will get heavy into the why football coaches make the decisions they do, and look very closely at the players a coaching staff would need to prepare for on that week's opponent."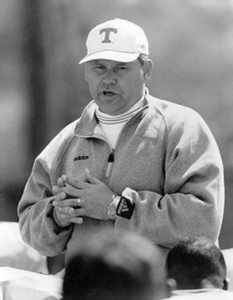 Courtesy of: Mike Organ
Published by: The Tennessean