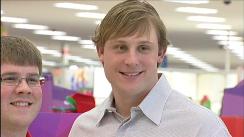 During Chad Pennington's 11 seasons as an NFL quarterback, numerous players were the benefiting recipients of his more than 1,600 pass completions.
On Monday morning, 65 youngsters at the Target on Clinton Highway in Powell were the pleased recipients of some other gifts he tossed their way.
The children, who are clients of the Helen Ross McNabb Center's residential programming services, were enjoying a holiday shopping spree for themselves and their families with the help of donations from Pennington's 1st and 10 Foundation.
"Robin (his wife) and I have always felt blessed to have the support group we had, whether it be family or friends," the Webb School of Knoxville graduate said during a break from visiting with the kids and helping them pick out gifts.
"And this is our way to serve kids here in our community in East Tennessee and show we care for them and support them and love them." This is the eighth year he and his wife have helped the McNabb center or Child & Family Tennessee before its merger with McNabb.
McNabb spokesman Emily Scheuneman said the center is very grateful.
"This is a phenomenal experience for these kids to have opportunities to come and shop," she said. "We think this experience will last a lifetime for them." Pennington retired in 2012, but played his last NFL game in Nov. 2010 with Miami when he injured his shoulder on the first snap of his first start that season. He underwent foursurgeries on his throwing shoulder during his playing career with the New York Jets and Miami Dolphins.
Pennington said he has lived in Lexington, Ky., for about the last year. He spends much of his time these days doing part-time consulting work with the NFL's Legends program, helping with his and his wife's foundation and also doing some fund raising for Marshall University, where he finished fifth in the Heisman Trophy voting in 1999.
He admitted that he still misses some of the connections he made playing pro football, but not the physical pounding.
"You miss your teammates, you miss your organization and structure of having a goal as a team and being able to compete with one common purpose, but I certainly don't miss the hits on Sunday," he said with a smile.
Although the long-term physical effects of playing pro football have been increasingly documented, Pennington said he has not had any problems, saying he tried to trust in the equipment as well as play with proper form and technique.
"Most of the time you can protect yourself," he said.
Pennington is no longer doing any NFL television work for Fox Sports as he did in 2011, but said he still follows the pro game.
Pennington has also followed Webb and was pleased the Spartans won another state championship earlier this month.
"Coach (Dave) Meske's done a great job and they continue to excel on the football field," he said. "It's always fun to watch your old high school do well."
John Shearer is a freelance contributor.