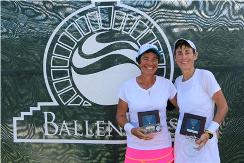 Chattanooga Christian middle school tennis coach Sue Webb has college All-American honors and high school state team titles on her impressive resume.
Sunday at the Ballenisles Country Club she added a USTA national championship.  Webb (Lookout Mountain) a former All-American at the University of Tennessee at Chattanooga and former CCS head coach, teamed with Fran Chandler (Jackson, Tenn.) to win the USTA women's 50s clay court doubles championship.
Seeded fourth, Webb and Chandler defeated the No.1 seed team of Kathy Vick and Vicki Buholz, 6-4, 6-3, for the title.  In singles, No.1 seed Chandler won the championship, while No.6 seed Webb placed third defeating No.4 Kathy Vick (Tex.) 6-4, 4-6, 6-3 to claim a bronze ball.
Bracket Busters: No.4 Webb-Chandler defeated the No.2 seed Marianne Caplan-Mariana Holman in the semis and the No.1 seed Kathy Vick, Vicki Buholz in the finals.
In four matches, Webb-Chandler lost 14 games in eight sets.